Facebook is recommending advertisers to include video creatives in their campaigns.
FB even promotes video content to the extent of creating a video course to teach marketers how to create well-performing video ads.
But do video ads actually work? Are they worth the extra effort in addition to designing static image ads?
In 95% Facebook ad campaigns I've set up throughout my career, static images have always worked better. After the extensive work of creating video ad creatives and setting them up, they've returned a bad surprise.
There goes your effort – image source
But who knows… Maybe Facebook keeps updating their algorithms, making video ads the winning creative once and for all?
We decided to give it a try, together with Printful (fulfillment and warehousing service for eCommerce brands) and Httpool (Facebook's Authorized Sales Partner).
We also experimented with another hypothesis: Will automated or custom ad placements bring better results?
Carry on reading to find out what we found. 🕵
Facebook Ad Experiment 1: Static image ads vs. video creatives?
The first experiment we ran was testing three various ad creatives:
A static image ad with a smiling girl
A static image ad with product images
A video ad promoting Printful's service
A static image ad with a smiling girl
A static image ad with product images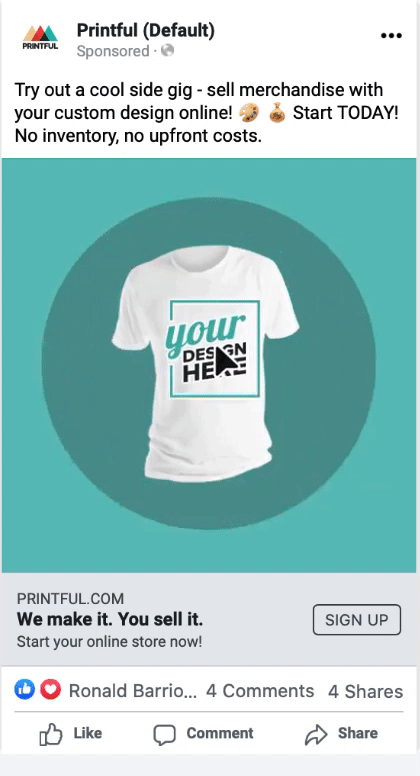 A video ad promoting Printful's service
Once we'd picked creatives for the experiment, we set up a Facebook ad split test, using Facebook's A/B testing feature.
Each ad was in a dedicated ad set with €30 daily budget and targeted the same audience. All ad sets were optimized on website signups (Registrations). Here's the landing page that we used.
The total budget for this test was €1,529.95 and it ran for 17 days between July 4-21, 2020. We collected the total of 302 Registrations which was quite sufficient for drawing some conclusions.
How the A/B test was set up
Facebook ad creative A/B test results
Now's the moment for making the bets…
Which one of the ads hit the jackpot and brought the most website signups at the lowest cost?
Make your guess – image source
Here are the results:
The static image ad with a smiling girl outperformed the video ad by 120% and the product-image ad by 183%.
Facebook ad creative A/B test results
That is a huge difference… Meaning that your Facebook ad creative can pretty much make or break your campaign.
However, the test didn't just prove that static image ad outperformed the video ad. It also gave us other interesting takeaways.
Additional takeaway 1: While the static ad creative is the oldest trick in the book, there can be a huge difference between the results of two static image ads.
As we already mentioned, using a creative with a smiling girl brought almost two times (183%) better results.
As Kerttu Talvik, Facebook Lead at Httpool in Estonia explained:
"Experimenting with ad formats on Facebook is key to understanding what works. And finding what works is key to a successful campaign that saves money and drives results. Obviously, in this fast-changing world, advertisers cannot always do everything by themselves. And that's where our Facebook advertising experts come in to alleviate some of the stress that the complexity of testing can bring."
Additional takeaway 2: When comparing the ad placements of video vs static image ad, we learned that they delivered results from the exact same placements: Facebook and Instagram news feeds.
So using a video ad didn't help us to cover other Facebook ad placements that we would not have reached otherwise.
Static image ad's top 5 placements
Video ad's top 5 placements
Here's a note from Elvis Abeltins, PPC Marketing Specialist at Printful:
"The static image ad with the girl looking directly at the ad viewer has been among our top creatives for a while now. It's very simple and gets straight to the point, therefore it really speaks to the audience and delivers great results. As soon as we added this creative to the campaigns there was a significant CPA improvement."
Which leads us to another useful learning that you can also test in your Facebook ad campaigns…
Additional takeaway 3: Facebook ad creatives with people tend to perform well in most cases. Test it out!
Want some inspiration for your Facebook ad creatives? Check out 180 good Facebook ad examples.
Facebook Ad Experiment 2: Automatic vs Custom ad placements?
Facebook has a gazillion of different ad placements where your ads might appear. And you're able to manually select where exactly you'd like your ads to appear.
Or you can simply leave it up to Facebook's algorithms to deliver your ads in the most relevant placements.
Should you use automatic or manual Facebook placements?
Manual v.s. Automatic ad placements?
To test it out, we set up two ad campaigns:
The 1st ad campaign had 2 ad sets with automatic ad placements
The 2nd ad campaign had 2 ad sets with manually selected ad placements
The A/B test budget was around €2600 and it ran from July 3-29, 2020. The audience was based in the UK.
The ad campaign with manual placements targeted Facebook and Instagram placements, but excluded the Facebook Audience Network.
Manual ad placements excluded Audience Network
🥁 Drumroll please as here come the results:
The ad campaign with automated ad placements delivered 17% more conversions than the campaign with manual placements.
Campaign with automatic placements was the winner
While the manual placements' campaign was a front-runner right after launching the test, its tide ebbed mid-way.
Interestingly enough, the top-performing placements for the automatic campaign were still Facebook and Instagram. Looks like the algorithms can simply collect more relevant data when targeting all placements instead of excluding some.
Both campaigns got results from the same ad placements
As Elvis from Printful put it (and I completely agree), manual placements can be used for more specific ad campaigns where it's important to properly showcase the ad visual or gain engagement under the post.
For instance, when you're boosting a Facebook post, you may want to only target Facebook and Instagram feeds to maximize the engagement. Or if you're running an ad campaign with a visual customized for Instagram Stories placements only, you could apply manual ad placements to ensure the correct delivery platform.
When it comes to broad prospecting campaigns, automatic ad placements should be your go-to strategy.
P.S if you use automatic ad placements and want to maximize your results, upload your Facebook ad creative in all three formats: square, stories, and landscape.
Add 3 different formats of ad images per ad
Learn more about all Facebook ad sizes and specs.
What's next?
Based on the learnings from these two A/B tests, Printful can now confidently use automatic Facebook ad placements for most of their acquisition campaigns.
Also, they can move forward with A/B testing even more ad creatives, starting with static ads and later turning their top-performing creatives into videos to give them another try. I still consider video ads a long shot though…
Here's Diana Zukova, Facebook Lead at Httpool in Latvia who bring hands-on education and training sessions to advertisers in the region:
"As Facebook keeps continuously introducing new ad formats, solutions and updates, marketers have to make sure they are always on top of the trends. Non-stop education, research and training is key to survival in the digital jungle."
To survive in the jungle, you need to evolve.
In case you want to set up some Facebook A/B tests of your own, start by reading this guide on Facebook ad split testing to collect some ideas.
—
This Facebook ads experiment was run in collaboration with the marketing team at Printful and Facebook marketing experts at Httpool.
Httpool, an IMS corporate company, represents the leading digital media platforms, including Twitter, Facebook, Spotify, LinkedIn, Snapchat and others across Europe and Asia. It supports their growth as well as drives business results for traditional and native advertisers across 30 markets. Jointly, IMS and Httpool exclusively represent over 20 media platforms in more than 45 countries worldwide. www.httpool.com, www.imscorporate.com