Instagram ad targeting is the key to achieving success with your ad campaigns.
In 2023, as Instagram Reels and Stories have finally taken the #1 spot in advertisers' priority lists, you should put more effort into improving your IG campaigns.
With more than 1 billion daily active Instagram users, it's absolutely critical that you target only those who are potentially interested in your product.
In this chapter of our Instagram Advertising Guide, we're going to discover all the different Instagram target audiences.
By reading this guide, you will learn:
How does the Instagram ad targeting work?
How to create Instagram and Facebook ad audiences?
How to set up Custom Audiences and Lookalike Audiences?
What are the best Instagram audience targeting options to use?
We recommend that you experiment with various Instagram audiences to find the perfect target group for your ad campaigns.
How Does Targeting on Instagram Work?
Instagram ad targeting works by allowing advertisers to select specific locations, demographics, interests, behaviors, and traits to specify the people to display their ads to.
As Instagram ads are managed the same way as Facebook ads, their audience targeting works in the exact same way.
To create and manage your Instagram target audiences, you'll have to use the Facebook Business Manager. (Since 2022, the platform is called Meta Business Manager.)
Simply go to the Business Manager and by clicking on the top-right menu, select "Audiences."
Instagram audiences are managed in the Business Manager
On the Audiences page, you can see all your saved Facebook audiences as well as create new ones. To understand the wide range of targeting options that come with Instagram ads, let's start from the basics.
Facebook and Instagram ads have three main audience types:
Saved Audiences
Custom Audiences
Lookalike Audiences
Instagram uses data from a user's profile, such as their location, age, and interests, to determine which kinds of ads to show them. Advertisers can also use special ad audiences to target users based on specific behaviors or historical behavior, such as website visitors or email subscribers.
Let's take a look at all three options.
Facebook Saved Audiences
If you're just getting started with advertising on Instagram, you should start by creating a Saved Audience.
Saved Audiences are the audiences that you can define by choosing people's interests location, age, gender, used devices, income level, etc.
You can create Saved Audiences both in the Instagram campaign setup phase or in the Business Manager's Audiences section.
Here's a quick overview of the Saved Audience parameters you can edit:
Locations
Age
Gender
Languages
Interests
Behaviors
Demographics
Connections to pages
You'll have plenty of targeting options
Location-based targeting
When setting up Instagram ads, you can target people in specific locations by selecting:
Country
State/Region
Counties
DMA (Designated Market Area)
City
Postal Code
Specific Address Radius
Simply type in the regions you wish to target.
Target based on your audience's location
You also have another layer of location targeting, allowing to be even more specific:
Everyone in this location (the default targeting option) – The last updated location of an actual Facebook user
People who live in this location – Location is set by the location on a user's Facebook profile and confirmed by their IP address.
People recently in this location – Tracked by mobile device usage in the geographic area you intend to target.
People traveling to this location – Users who had this geographic area as a recent location that's at least 100 miles away from their home location.
Demographics-based targeting
You can also define the age, gender, and location of your Instagram Saved audiences.
1. Age – If you know the average age of your audience members, you can set some age restrictions to narrow down your audience.
Set age restrictions
2. Gender – If your product is targeting a gender-specific audience, you can let Facebook know about it.
Tip: Even if your offers target both genders, you could create gender-specific Instagram ad campaigns to see if women and men respond differently to ad creative that matches their own gender.
3. Language – If you're advertising in a particular language, you might want to only target the people who can understand your ads.
Target based on language
Later, in the "Detailed targeting" section, you can get even more specific and target people based on their relationship status, political views, life events, job titles, ethnicity, etc.
You can get seriously specific with your targeting
Interest-based targeting
Interests are one of the best (and easiest) Instagram audience targeting options as they allow you to target people specifically interested in topics and brands related to your product.
For example, you can target people interested in your competitors or magazines and blogs covering your industry.
To find and select new interests, you can either type in some words or browse Facebook's pre-defined menus.
Target based on interests
People's interests are based on Facebook users' likes and interests, apps they use, Pages they've Liked, and more.
Add several interests to broaden your Instagram audience.
Behavior-based targeting
Unlike precise Interests, Behaviors allow you to target people by purchase history, events they like, devices they use, etc.
For example, a beauty brand could target users who have previously purchased skincare products from their store in order to promote their new skincare line.
Note that behavior-based targeting still falls under the Saved Audiences category.
Target based on behaviours
Here are a couple of examples of the behaviors you can target:
Mobile Device User – target Android or iOS users
B2B – target users based on company size, their industry, and their seniority at their job
Expats – target people who have left their home country to go live somewhere else
Purchase Behavior – target users based on their purchase habits and expenditures
To master behavioral targeting and learn about all its possibilities, check this guide: Reach Your 100% Perfect Audience With Facebook Behavioral Targeting.
Facebook Custom Audiences
Facebook Custom Audiences are your most high-value Instagram target audience.
This audience type allows you to retarget past website visitors and people who have engaged with your Instagram posts.
There are several ways to set up an Instagram remarketing audience, and we're going to cover each of them briefly.
1. Create Custom Audiences from Customer Files
One way to create Facebook Custom Audiences is to upload your existing customer files – the lists of email accounts, phone numbers or app IDs.
The Customer File audience is a great way to target your newsletter subscribers, leads, or app users.
Target your existing customers via a Custom Audience
To create a Facebook Custom Audience for targeting on Instagram, follow these steps:
Create a Facebook Custom Audience
Select the "Customer File" option
Select whether you wish to add a customer file or import contacts from MailChimp.
Import your customer data to create a new Custom Audience
Select the identifiers
Upload a customer file
Give your Custom Audience a name
Your customer files can include 15 different identifiers, the most popular ones being:
Email
Phone number
Mobile advertiser ID
Instagram Custom Audience parameters
If you need to clean up the data inside your customer files before the import, this Facebook's guide can help you out.
2. Create Custom Audiences Based on Website Traffic
Website traffic-based Instagram target audiences allow you to create remarketing campaigns for people who have engaged with your website and specific landing pages.
Target past website visitors
Important! To create audiences based on your website traffic, you first need to install Facebook Pixel. See the Pixel setup instructions by Facebook.
Once you've installed the Facebook retargeting Pixel, Facebook will automatically track all the website visitors that you can later retarget with Instagram promotions.
When setting up Instagram remarketing audiences based on website visits, you have plenty of different options:
Target everyone who visited your website
Target people who visited specific web pages
Target people who visited specific web pages but not others
Target people who haven't visited your website for a certain amount of time
Other custom combinations
So many remarketing options!
If you're not using website traffic-based Custom Audiences yet, there's such a huge Instagram advertising potential just waiting to be used.
3. Create Custom Audiences Based on App Activity
If you're interested in reaching the people who have engaged with your iOS or Android app, you can set up an Instagram target audience to do just that.
Target your mobile app's users
To target people based on in-app activity, you first need to register your app and set up the App Events you want to track.
This can be especially relevant when promoting mobile apps or working with SaaS Facebook ads.
To create an Instagram retargeting Audience based on app activity, target people who have taken specific actions (events) in your app.
Tip: You can also select the time frame for targeted events to reach people who have taken actions in your selected timeframe. For example, you can select an in-app purchase event and specify "In The Last 30 days" to target the app users who have completed an in-app purchase in the past 30 days.
Facebook will be constantly updating your Custom Audiences to match your selected timeframe, meaning that the people in your audience will change every day.
Here's the official guide by Facebook to help you create Custom Audiences based on app activity.
4. Create Custom Audiences Based on Engagement
Did you know that you can also target the users that have engaged with your content on Facebook, e.g. viewed your videos or liked a post?
Retarget based on Facebook or Instagram post engagement
Here's a quick overview of all the available engagements based on which you can create retargeting audiences:
Video: 3-second video views, 10-second video views, 30-second video views, video watches at 25%, video watches at 50%, video watches at 75%, video watches at 95%, video watches at 100%
Lead ads: opened form, opened form but didn't submit (otherwise known as a "drop-off"), opened and submitted form
Canvas ads: opened, opened and clicked on link
Facebook page: visited your page, engaged with any post or ad, clicked a call-to-action button, sent a message to the page, saved a page or any post
For example, you could retarget people who clicked on your Facebook Lead Ads, but didn't complete the conversion. You could test advertising the same offer again, but using a slightly different ad image or different value proposition.
Or, for example, An even organizer could target people who have previously engaged with their Instagram account to promote an upcoming event and invite them to participate.
Targeting engagement-based audiences with Instagram ads is also a great way of engaging with your Facebook fans on multiple platforms.
Facebook/Instagram Lookalike Audiences
Facebook Lookalike Audiences let you reach the people who are similar to your existing customer database – making them highly likely to convert as well.
To create a Lookalike Audience and target it with your Instagram ads, you first need to create a Custom Audience to tell Facebook what type of users you want to reach.
Create a Lookalike Audience in 2 steps
Next, select the "Lookalike Audience" from the audience creation menu and select a target country and a percentage (1%-10%) of the targeted country's Facebook users. The percentage signifies the people most similar to your selected Custom Audience.
Lookalike Audience creation process
Lookalike Audiences help you to extend your ad campaign's reach so that you only target people who are likely to be interested in your offer.
Value-based Lookalike Audiences
As the latest addition to its audiences, Facebook added a new type of audiences in June 2017: Value-based Lookalike Audiences.
The new Facebook value-based Lookalike Audiences have a simple goal: to help you reach more people who resemble your current high-value customers.
As you add Custom Audience datapoints to give Facebook insight to each customer's lifetime value, its algorithms can find new people likely to be interested in your offers.
Learn more about Value-based Lookalikes here.
That's for advanced Instagram marketers
How to Narrow Down Your Instagram Audiences
Sometimes, an Instagram target audience can include millions of users. This means that you may need to spend thousands and thousands of dollars to reach all of these people.
When creating a Facebook advertising audience, you can narrow your audience with the AND/OR targeting options.
The OR targeting means that when you add new targeting options under the same category of targeting, your audience will grow larger. The AND targeting means that a person who's in your target audience must fall into multiple categories. This will help to decrease your audience size and create niche audiences.
Narrow down your Instagram audiences
Another way to limit your Instagram ads targeting is to use the EXCLUDE function.
You can exclude audiences in two ways:
By excluding some interests and demographics
By excluding specific Custom Audiences of past converters and the existing leads
Exclude people from your Instagram audience
Instagram Audience Targeting Best Practices
If you're just starting out with Instagram advertising, having all the different audience targeting options may seem a bit daunting.
No worries, we've go you covered!
Up next, you'll find five suggestions for successful Instagram audience management.
Instagram Ad Targeting Tip #1: Start Out With Saved Audiences
If you're new to Instagram ads (and haven't done much Facebook marketing either), it's best to start out by targeting people based on their interests and demographics.
This way, you let Facebook's auto-optimization algorithms work their magic and later use the Facebook Audience Insights tool to learn more about your target audience.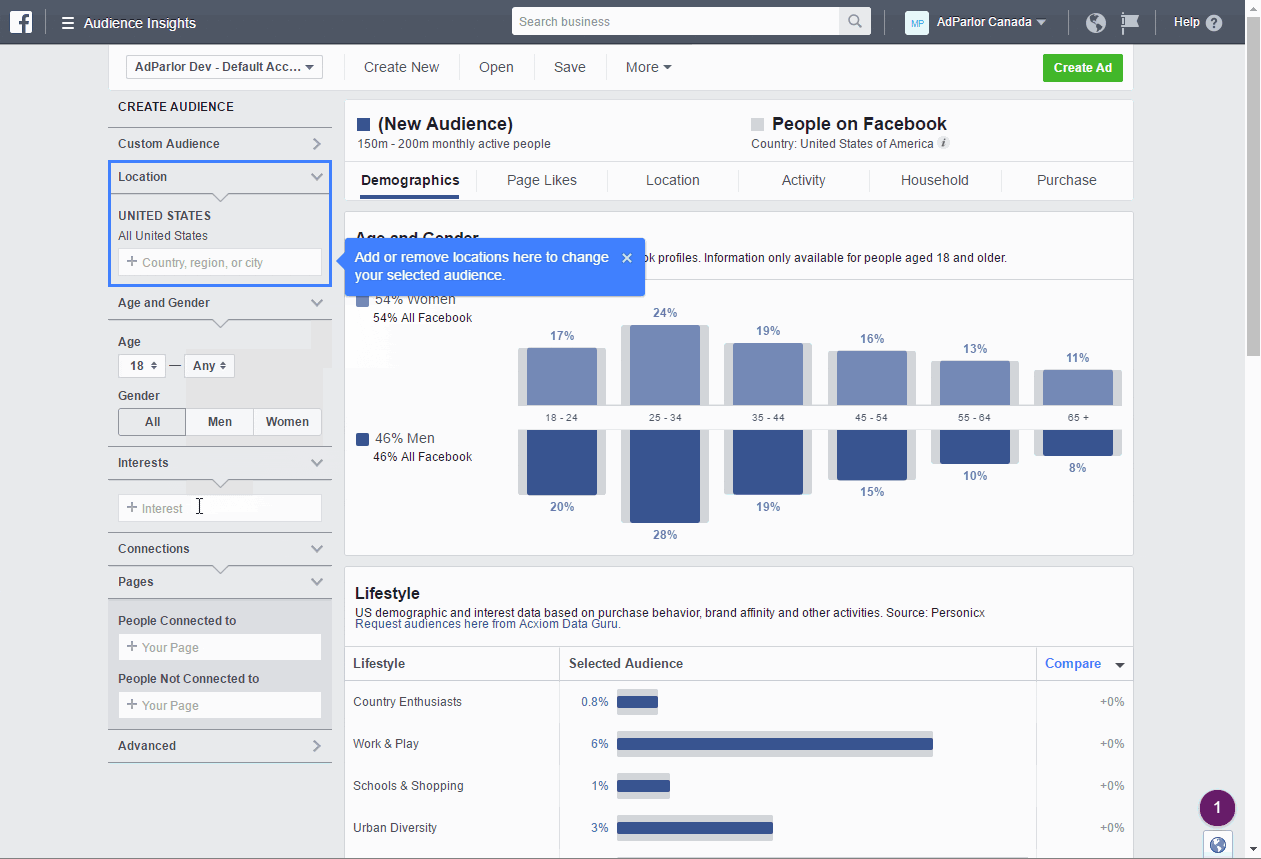 Use the Audience Insights tool
Over time, you will get a better sense of who your Instagram target audience is and what are these people interested in. You'll also be able to retarget the people who have already clicked on one of your Instagram ads and been to your website.
Learn more: From 0 to Results. How to Set Up Low-Budget Facebook Campaigns
Instagram Audience Tip #2: Create Retargeting Audiences
Not all Facebook audiences have the same ROI. In fact, the ROI of different audiences can be dramatically different.
According to Adobe, the average revenue per visit for repeat purchasers is 497% higher compared to regular shoppers.
Here are three simple ideas for getting started with retargeting on Instagram:
Your landing page visitors – You can retarget people who have been to your website and offer a small discount to incentivize them to return.
Past purchasers – You should also retarget the people who have already purchased from you in the past – maybe they'll be interested in buying more.
Your blog readers – Share the latest blog posts on Instagram and lead more people to your bog.
Remarket to your blog readers
Instagram Targeting Tip #3: Promote to Your Facebook and Instagram Followers
One of the highest-engagement Instagram audiences are the people who already like your brand.
Being your Instagram followers makes them also more likely to like all your posts and Instagram promotions.
When setting up a Saved Audience, you can select to target your Facebook Page fans or the friends of your fans. Use this feature to reach new highly engaged audiences.
Target your fans
Instagram Ad Tip #4: Exclude Custom Audiences
It doesn't make sense to be showing your Instagram ads to people who have already converted on them.
Instead, you should exclude the past converters from an Instagram campaign's audience and move them to another campaign with a different retargeting offer.
Exclude the already converted audiences
Another way to create niche audiences and keep your Facebook campaigns optimized is by excluding people with specific interests.
Instagram Ad Targeting Tip #5: Match Your Offers With Audiences
If you've created a highly specific Instagram ad offer that's relevant only to a small niche audience, make sure to narrow down your target audience as much as possible.
Otherwise, your ads might leave people wondering "Why am I seeing this ad?"
Your Instagram ads need to match with the target audience, so that people will find your ads relevant, engage with them, and as a result you'll get higher Facebook Relevance Scores and lower ad costs.
Now that you've mastered Instagram ad targeting down to the bones, it's time to head on to the next chapter: Instagram Ad Design and Copy – The Beginner's Guide for Great Results
Learn more: